Armenia - 100 dram - 1998 - P42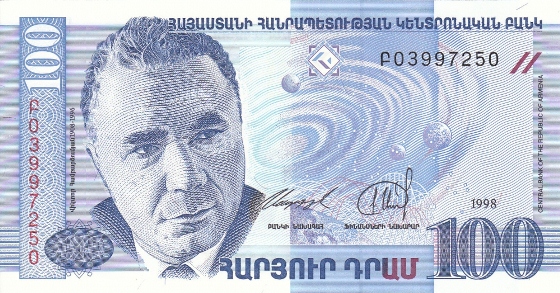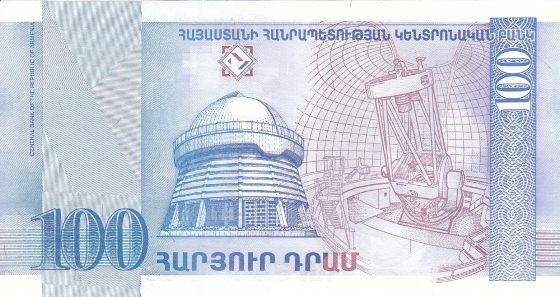 On the front of the note we see Armenian astrophysicist Victor Hambartsumyan and a map of the solar system. The back shows the Byurakan Astrophysical Observatory and a telescope.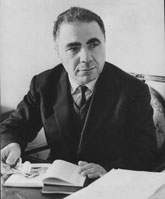 Viktor Hambardzumyan (1908–1996) was a Soviet Armenian scientist, and one of the founders of theoretical astrophysics. He worked in the field of physics of stars and nebulae, stellar astronomy, dynamics of stellar systems and cosmogony of stars and galaxies, contributed to Mathematical physics.
Hambardzumyan was the President of the International Astronomical Union from 1961 till 1964, was twice elected the President of the International Council of Scientific Unions (1966–1972), was a member of the USSR Academy of Sciences, and foreign member of the Royal Society, the US National Academy and the Indian Academy of Sciences. Among his numerous awards are Stalin Prize (1946,1950), Hero of Socialist Labor (1968,1978), State Prize of the Russian Federation, Gold Medal of the Royal Astronomical Society, Bruce Gold Medal from the Astronomical Society of the Pacific, National Hero of Armenia. Hambardzumyan was the founder of Byurakan Observatory.
The Byurakan Astrophysical Observatory was founded in 1946 on the initiative of Hambardzumyan, who became the first director of the observatory, and main directions of astrophysical investigations were determined by him. The first studies at the Byurakan Observatory related with the instability phenomena taking place in the Universe, and this trend became the main characteristic of the science activity in Byurakan.
You can find more on the observatory here, and on its founder Hambardzumyan in this biography. His main scentific accomplishments can be found in this wiki.