Slovakia - 5000 korun - 1995-2003 - P29/33/40/43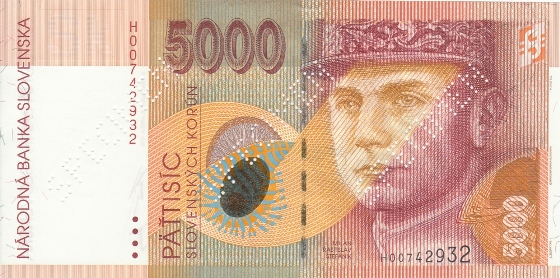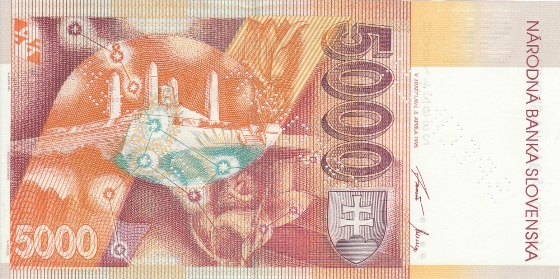 This beautiful note shows on the front an image of Milan Rastislav Štefánik, a Slovak politician, diplomat, and astronomer. He graduated in 1904 with a doctor's degree in philosophy and with thorough knowledge of astronomy (he finished his studies with a thesis in astronomy). He wrote his thesis about a star which was discovered in the Cassiopeia constellation in 1572. In 1904, he went to Paris to find a job in astronomy with the recommendation of a Czech professor who was known in Paris. Initially, he had no money and no command of French, but was nevertheless able to obtain a job at the famous Observatoire de Paris-Meudon, whose director, Pierre Janssen (one of the co-founders of astrophysics), saw Štefánik's talent. Štefánik owed to Janssen and Camille Flammarion his social, political and scientific career. The observatory was the most important centre for astronomy at this time which meant a huge prestige in his job.
Since 1908, he had been charged by the French authorities with astronomic and meteorological observations (mainly observations of sun eclipses) and political tasks in various countries all over the world. Štefánik dealt with astrophysics, solar physics and became well known for his spectral analysis of the sun's corona. In World War I he served as general in the Franch army (and also as the Czechoslovak Minister of War). After the war when he was in the middle of diplomatic fights with several countries, his plane crashed when he was on the way back to the city of Bratislava.
On the front are elements printed on the left side of Štefánik's portrait which illustrate the sun and the moon. The back of the banknote shows Štefánik's grave on Bradlo Hill. The printed design is overlapped by part of the Great Bear constellation (Ursa major).