On November 7th the new 20 Dollar will be released to the public in Canada. To announce this event Canada has unveiled a giant image of the note on the side of the Central Bank building.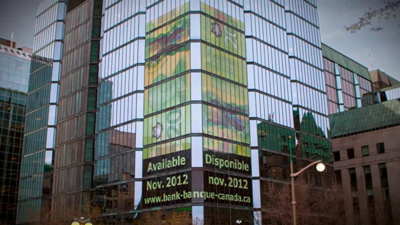 This has sparked some controversy in Canada due to the costs for this piece of art. The image costs almost $40.000 to design, produce and install. This is of course a large sum for you or me but to be honest: is it that much for a publicity campaign? I don't know.
But that's not the only turmoil surrounding the introduction of the new banknote. Apparently some Canadians have been outraged that the pictures of three naked women and the Twin Towers are on their new money.
Yes, this is the moment where you probably should raise your eyebrows...
What they view as a weird semi-pornographic image is actually the Vimy Memorial in northern France, a monument for Canadian soldiers who died in the First World War. Never let the truth get in the way of a good story I guess. On November 7th everyone can view the new banknotes for themselves at their local sexshop bank.