We had election night in the Netherlands. The PVV (Freedom Party) distributed banknotes amongst their supporters picturing their leader Geert Wilders on an old 100 gulden banknote. This in support of their wish to leave the euro and return to our former currency, the gulden. The banknotes were made by Benny Wezenberg, a transport company owner and PVV supporter. A spokesperson of the Dutch Central Bank said they were monitoring the action to see if the public wouldn't be confused in thinking it was real money.
Confusion over a banknote with Wilders on it?? Rrrright… Later the spokesperson said it is the duty of the Central Bank to monitor all money being used in the Netherlands and to make sure no fake money enters the system. If it doesn't then they would regard this 'new' note as a joke.
By the way, the stunt had little effect on the results which can be viewed here.
Update: How nice! I tweeted NOS reporter Ron Fresen who was there on election night asking him if he can get a Wilders banknote for me and he will try to send me one!
Update 2: Yes! The banknote has arrived and is added as a fantasy note to my collection.
The Wilders Gulden: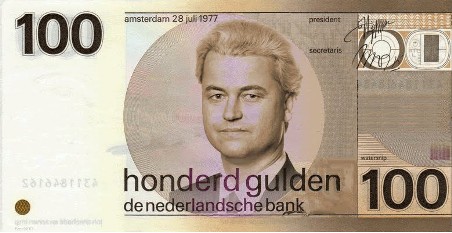 The original 100 Gulden: