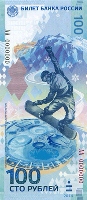 We got him! This week I received the beautiful Russian 100 ruble note issued in commemoration of the Olympic Winter Games in Sotchi. The note looks great once you have it in your hand and I was surprised how nice the transparant window turned out.
You can still vote for this note as IBNS Banknote of the Year if you're a member of the IBNS by the way.
Another new note I received yesterday was the new 2 dollar note from the island of Barbados. The new series was issued in June 2013 and you can read the article I wrote about the beautiful new series here.
Barbados is the 203rd country I've added to my collection.