The Mujand Trading Company did it again: the F-series from the fictional Poneet Islands has been issued. The Poneet Islands of course are part of the planet Blissdane Naïve. For those unfamiliar with this exciting world, please read the stories or view the banknotes from the different nations so far.
After the previous set my expectations were high. The Perish Island set was great and very original, but now we have the polymer set from the Poneet Islands. I had seen a preview of these notes and was struck by the colors and the beautiful themes on the banknotes. It instantly reminded me of the beautiful notes from countries like the French Pacific Territories or the beautiful bird themes used on the notes from Suriname. The front of the notes show faces of people and themes like islands and boats. We can also see a holographic security strip which looks great.
The back of the notes is where the real beauty lies in my opinion. The pastel colors fit perfectly with the delicate flowers and the gracious birds. This combination gives the notes a very balanced and expensive appearance and is particularly nice when you see all the notes together in your album.
It's great to see that the notes from the Mujand Trading Company, which are created by the very talented Celsus Solar, have become increasingly professional and that the fantasy world of Blissdane Naïve keeps giving us better fantasy notes.
You can buy this and previous sets at the eBay store of Yuri111 or at the eBay store of fantasy_notes_and_more.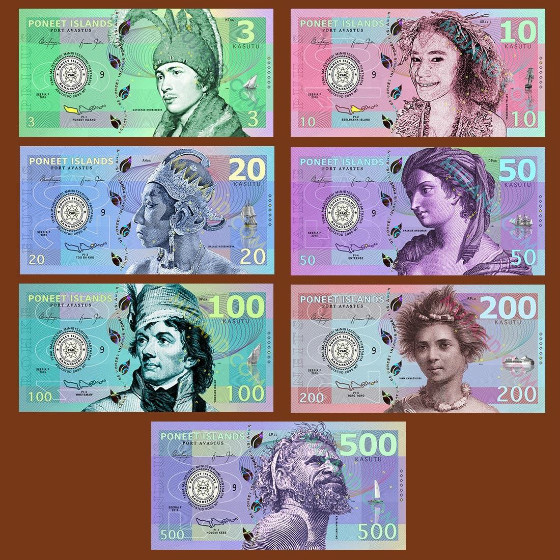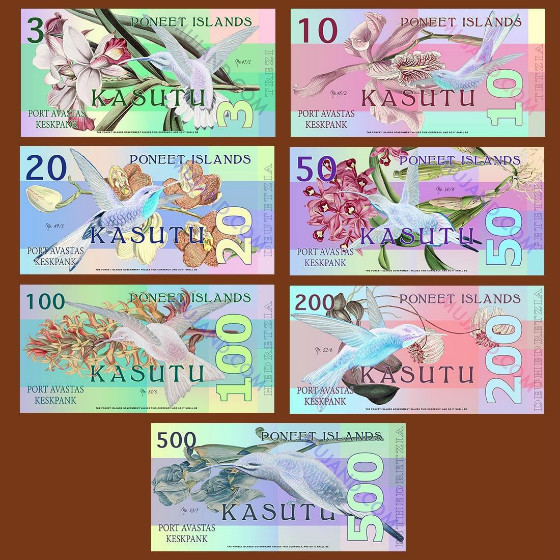 Disclaimer: this fantasy set was sent for review purposes. The text is entirely mine and was not paid for or asked for in any way.