Could these be the new banknotes from Libya? There are several shown in this video which I found on Jay's World Banknotes.
Apparently the following images appear on the notes:
1 dinar - Front: Unknown. Back: Flag of Libya and peace doves.
5 dinars - Front: Ottoman Clock Tower. Back: Zeus Temple in Cyrene.
10 dinars - Front: Portrait of Omar Al Mukhtar. Back: Al Mukhtar horsemen.
20 dinars - Front: Al Ateeq mosque in the city of Oujlah in the oasis. Back: Traditional school in Ghdamis.
50 dinars - Front: Italian Lighthouse of Sede Khrebeech. Back: Stone arch in Tadrart Acacus.
Update 6 December 2012: Banknotenews has published more pictures on their site. It's however pretty clear that these are other banknotes than the ones in the video. The Central Bank of Libya has put up a link to the above video claiming it's the Deputy Governor discussing the new banknotes (or that's what I got after translating the Arab text of the popup in Google Translate). So which one is the correct new set? More and more sites claim that it will be in fact the set below which will be issued in the beginning of 2013.
See the images of Banknotenews after the click:
1 Dinar - front: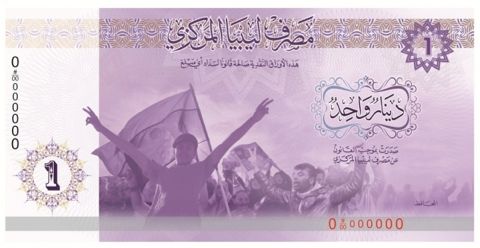 5 Dinar - front: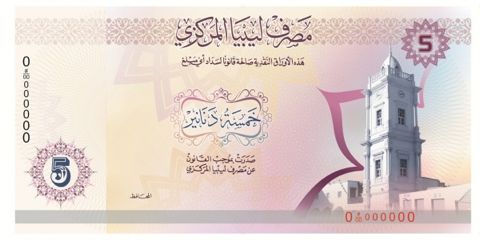 10 Dinar - front: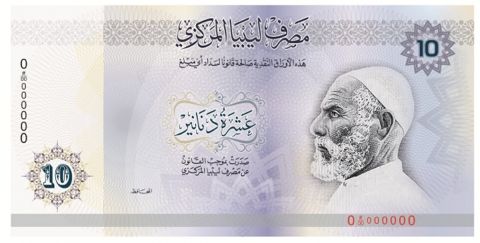 20 Dinar - back: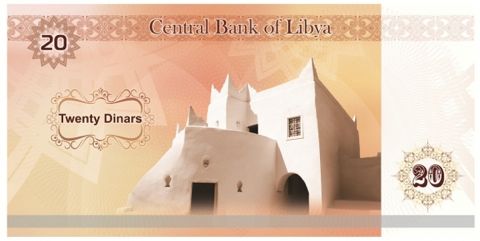 50 Dinar - front: