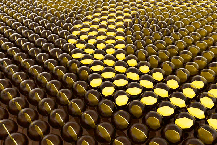 Banknote printer Giesecke & Devrient has developed a new (and pretty cool) security feature for banknotes. In the future you can check if a banknote is false using your mobile phone! It's called MAGnite and will be introduced at the Banknote conference in Washington D.C. where the latest trends are introduced to the banknote industry.
From their website: "
MAG

nite uses high-performance pigments that allow reversible changes between two color states. Highly resistant micro capsules enclose these pigments, without in any way limiting their flexibility. The alignment of the pigments and the colors perceived can be controlled externally simply with magnetic effects.
" You can read more about it in
this article
at the website of Giesecke & Devrient.