Ynetnews.com reports that war-torn Syria will issue a new 2000 pound banknote. It will feature for the first time the image of president Bashar Assad where previously an image of his father was. The new banknote has probably been printed in Russia.
The note will be issued at the beginning of February 2013.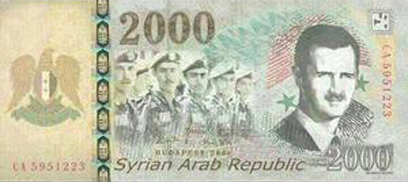 Update: It turns out that the picture shown here is actually a fabrication. Banknotenews has found out that the banknote is a modified Hungarian note of 2000 Forint. It seems that you can't even trust an internet source anymore...