From the BBC: "New bank-notes are going into circulation in Northern Ireland. The £10 and £20 notes will be issued from Danske Bank cash machines and branches, and will gradually replace existing Northern Bank notes. The only change on the notes is the replacement of the Northern Bank logo with the Danske Bank logo. Northern Bank rebranded as Danske Bank, the name of its parent bank, in November 2012.
The public can still use Northern Bank notes, which will remain in circulation for several years.Gerry Mallon, head of Danske Bank UK and Ireland, said: "As the new bank-notes will be very similar to the Northern Bank notes, they will look familiar to consumers and retailers. "Although the existing Northern Bank notes will gradually be withdrawn from circulation, they can of course continue to be used in the usual way and will be accepted in retail outlets."
Danske Bank does not print its own £5 notes and the bank is also to stop printing its own £50 and £100 notes. Bank of England notes will be issued instead."
10 pound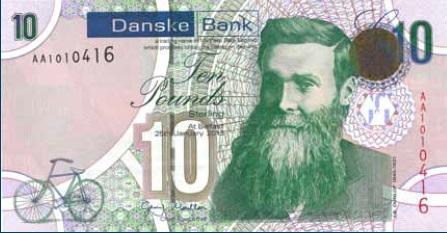 20 pound