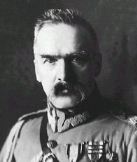 The National Bank of Poland (Narodowi Bank Polski) has announced (translation) that a commemorative banknote will be released in 2014. This will also be the country's first polymer banknote. The note commemorates the 100th anniversary of the formation of the Polish Legions by marshall and statesman Josef Pilsudski.
These legions were officialy formed with an order by Pilsudski issued on 22 August 1914. So I guess we can expect these notes to be issued at about the same date in 2014. (Update 21-1-2014: the new notes will be issued on 5 August 2014). Exactly 30.000 notes will be sold as numismatic products and will be featuring the portrait of Jozef Pilsudski designed by Andrzej Heidrich. This is a small number of banknotes so my guess is they will be sold out very quick.
In the press release they show the picture below but I'm not so certain this is the proposed design for the new note. What you see in the picture is the 5.000.000 zlotych note from 1995 which was never officially issued because of the revaluation of the zlotych. Perhaps they will use this design but with another value?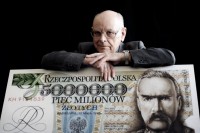 That particular note upclose: