MRI Bankers' guide reports that the first notes of 200 pesos dominicanos have been released by the Central Bank of the Dominican Republic. This move follows the decision made in 2010 that all banknotes dated 2011 will be denominated pesos dominicanos instead of the old name pesos oro.
The old pesos oro notes will remain valid and in circulation until all the old notes are replaced with the new ones. In the last series of banknotes the denominations of 100, 500, 1000 and 2000 pesos dominicanos have already been issued. With the issuing of the new 200 pesos dominicanos note only the 10, 20 and 50 pesos oro remain to be replaced.
Update: here is an image of the new note.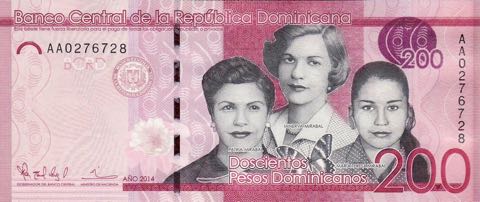 A video showing the new note: