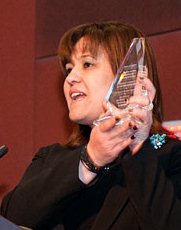 The Pan European High Security Printing™ Conference is an annual event that focuses on government-specified and issued documents. These include currency, fiduciary documents, excise stamps, ID cards, e-passports, visas, vehicle documents and licences, with a particular emphasis on banknotes and the emerging technologies for ID and travel documents.
This year the conference was held in Milan, Italy and several awards were handed out. The Regional Banknote of the Year Award 2014 went to the Central Bank of Russia for its new 100 Rubles banknote commemorating the 2014 Winter Olympic Games in Sochi.
"The regional Banknote of the Year Award recognises outstanding achievement in the design, technical sophistication and security of a banknote or banknote series, the key judging criteria being that successful banknotes should combine visual artistry and high levels of technical and security sophistication, with considerable emphasis placed on reflecting the cultural heritage of the issuing country in the note, and the relevance of the overall design and symbolism to the issuing country.
The Russian Sochi banknote is the first ever issued to mark the Winter Olympic Games – and its eye-catching design is the result of collaborative work between Goznak and the Central Bank's team. It is the first time that the Bank has used a vertically-orientated design, chosen to emphasise the uniqueness of the Sochi region, which combines the proximity of mountains and warm sea. A total of 20 million pieces have been put into circulation.
The design of the new note reflects both the character of the host city and the nature of the event with a flying snowboarder on the front and the Olympic Stadium on the back set against a patchwork motif background featuring various winter sports. The note also incorporates several security features previously unseen on Russian banknotes, including a holographic patch and a 15mm wide polymer thread which changes image depending on the viewing angle. The award was received by Alexey Salunin of Goznak."
Meanwhile you can also vote for the IBNS Banknote of the Year if you're a member of the IBNS. I nominated the 100 ruble note for this competition but feel free to vote for your personal favorite.