Norway announced on 4 December 2012 the start of the project to design new banknotes which will be their 8th series. First step was to decide on a theme for the new notes and in December 2013 they chose.... The Sea! I bet you didn't see that one coming right?
Based on that theme designers went to work. The subthemes for the different nominations were:
50 krone: the s

ea that

binds

us together

100 krone: the s

ea that

brings us

into the world

200 krone: the s

ea that

gives

us food

500 krone: the sea that

gives us

welfare

1,000 krone: the sea

that brings

us further
Is it just me or do these subthemes almost sound like a prayer if you read them together?
The designers came up with different ideas based on these subthemes and all the design can be found here. It is written in Norwegian but it is totally worth it because some of the designs are beautiful. And now from the press release:
"Eight participants were selected by a group of experts to take part in the final round of the competition. The jury has comprised five external professionals and one member from the Norges Bank. They have concluded that two proposals stand out: Ripple Effects by Enzo Finger, and Norwegian Living Space by The Metric System and Terje Tønnessen. The jury has selected Enzo Finger's proposal as the winner of the competition and is of the opinion that this proposal communicates the theme in a surprising way with considerable artistic flair.
Norges Bank has decided that a combination of two proposals submitted will go on for further work. The obverse sides of the notes will be developed on the basis of the proposal from The Metric System, Norwegian Living Space. The basis of the reverse sides will be the pixel motifs submitted by Snøhetta Design, Beauty of Boundaries."
So bad luck for Enzo Finger and his winning design but instead the Norges Bank chose two different designs as the motifs for the new series: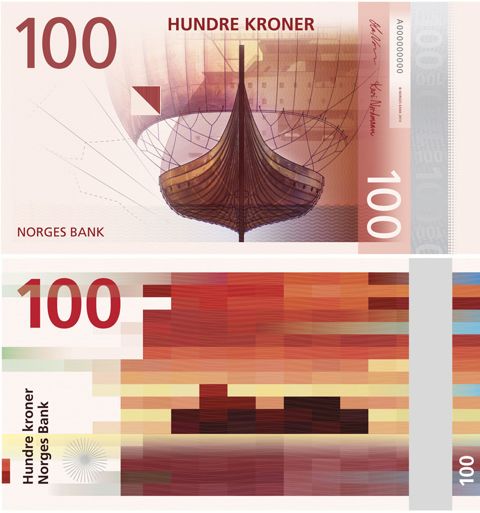 Hmm, well, that is kind of..... boring? If you want to see What Could Have Been, check Enzo Finger's design on page 41-45 of this PDF. In my opinion they are much nicer.
The new Norwegian banknotes will be issued in 2017.
Update 9 October 2014: the other denominations with these motifs are also available now.