The European Central Bank (ECB) has presented the new 20 euro note, the third note in the new Europa series. The new note will be issued to the public on 25 November 2015.
The new note includes an innovative security feature in the form of a "portrait window" set in the hologram. When the banknote is held against the light, the window becomes transparent and reveals a portrait of the mythological figure Europa, visible on both sides of the note. The new €20 banknote, like the new €5 and €10 notes, also includes an "emerald number" and a portrait of Europa in the watermark.
President Draghi said: "The portrait window is a real innovation in banknote technology. It is the outcome of the Eurosystem's work to ensure that the euro notes continue to be resilient against counterfeiting. This will reinforce the trust that the 338 million citizens across the euro area place in their banknotes."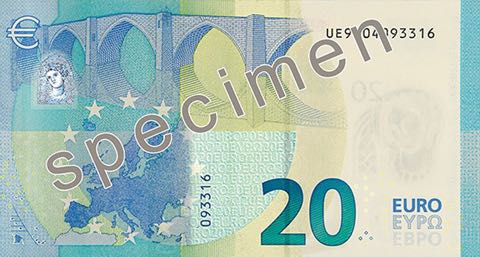 And here's a cool video showing all the new features of the new 20 euro note.