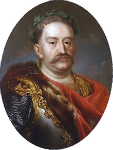 Even more news from Poland. In the same press conference where the updated 200-zloty banknote was shown by the Narodowy Bank Polski (National Bank of Poland, NBP) it was also announced that in 2018 a new 500-zloty note will be introduced.
The new note will feature the image King Jan Sobieski III, thus continuing the chronological continuity of the "Polish Rulers" series. The NBP plans to issue the banknote in 2018. It's not yet known exactly what the note will look like, the NBP said.
The aim of the new 500-zloty note is to lower costs of issuance and increase effectiveness of monetary management, according to Marek Ole?, the director of the issuance-treasury department at the NBP. The Polish Rulers series was designed by Andrzej Heidrich, and was initiated in 1995.