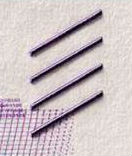 Good news for the blind and visually impaired people from Zambia and the United Arab Emirates (UAE). Both countries have announced that they will issue banknotes with so-called tactile marks (which is something else than the more famous braille, see for instance these examples of the euro).
Today the UAE introduces new notes of 5- and 500-dirham which have the same aid-system as the recently introduced 50- and 100-dirham notes.
Zambia will introduce its new notes at the end of 2015. No specific date has been given yet.