Don't we all remember how Russia annexed the Crimean peninsula from Ukraine and added it to the Russian motherland? Most of the western world cried out condemning the move. Russia on the other hand defended the move and just did what it wanted to do anyway.
Pretty soon after the annexation there was news of a commemorative banknote by the Central Bank of Russia celebrating the Crimea and the city of Sevastopol. Now that new 100-ruble note is here and Russia... I can see what you did there! Trying to win the western opinion back by isuing an absolutely gorgeous banknote!
The vertically orientated banknote doesn't seem to have a clear frontside and backside but perhaps I'm mistaken. The following description is from the press release:
"The banknote is printed on light-yellow colored cotton paper. One side of the note is devoted to Sevastopol, the other one – to Crimea. A wide security thread is embedded into the paper. It comes out on the surface on the Sevastopol side of the banknote in the figure shaped window. Multitone combined watermark is located on the unprinted area in the upper part of the banknote.
Ornamental designs run vertically along the banknote. The Sevastopol side of the note features the Monument to the Sunken Ships in the Sevastopol bay and the fragment of the painting by I.K. Aivazovsky «Russian squadron on the Sevastopol roads».
The Crimea side of the note features the decorative castle Swallow's Nest. In the lower part of the Sevastopol side of the banknote in the green stripe there is a QR-code linking to the Bank of Russia webpage containing historical information relating to the commemorative banknote. The predominant color of the note is olive green. Dimensions 150 x 65 mm. In circulation since 23.12.2015"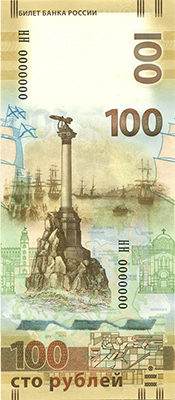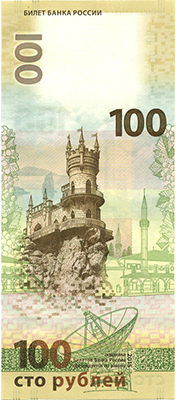 Thanks to Triaff Nikitin