The Royal Monetary Authority of Bhutan has issued a press release announcing a new commemorative banknote celebrating the first anniversary of His Royal Highness The Gyalsey, Jigme Namgyel Wangchuck (born 5 February 2016).
I think the note looks great but if there is a price for "cutest banknote" Bhutan will most definitely win. From the press release:
"The Commemorative Banknote measures 146mm x 70mm in length. The Banknote bears the Commemorative message "Commemorating the First Birth Anniversary of HRH The Gyalsey". The note bears the prefix "RB" marking the Royal Birth. In addition to the existing security features of the Banknotes, this Commemorative Banknotes has enhanced security features such as MicroPerf, E-type, SPARK Truspin and See through Register. The colour scheme is a combination of national colours, yellow and orange. The RMA is printing 1,000,000 pieces of Commemorative Banknotes through Orell Fussli, a Swiss Printing Company based in Switzerland."
The commemorative banknotes will be issued at a later date this year (perhaps around 16 April 2017, his name day?).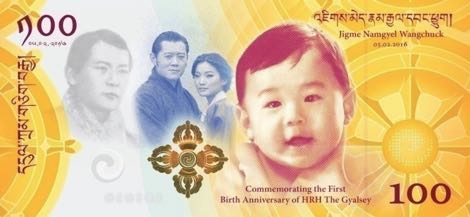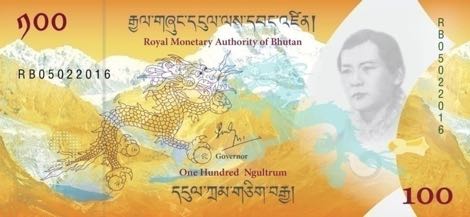 Courtesy of Elisabeth Limbacher.