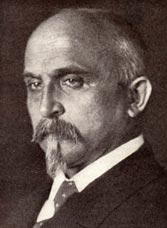 The Czech National Bank has plans to commemorate the founding of Czechoslovakia. This joyous occasion happened on 28 October 1918 after the First World War and the collapse of the Austro-Hungarian Empire. The country existed until its peaceful dissolution into the Czech Republic and Slovakia on 1 January 1993.
To commemorate this fact, the National Bank has published a competition for the design of the new 100-korun note. The note will be golden-yellow and as main motif for the front the portrait of Alois Rasin, first Finance minister of Czechoslovakia. For the back there is an option between the Schebek Palace, former building of the Banking Authority, or the current building of the Czech National Bank, both pictured below.
The new commemorative note will be issued in 2019. While it is legal tender it won't be widely available.