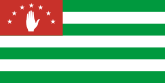 The National Bank of the Republic of Abkhazia has issued a commemorative banknote of 500 apsars. The note has been issued in commemoration of "the 25th anniversary of the Victory in the Patriotic War of the People of Abkhazia". Date of issue: 29 September 2018, size of the banknote: 150 x 65 mm, mintage: 10,000 pieces.
From the press release: "The main image of the front side of the banknote is a portrait of the First President of the Republic of Abkhazia V. G. Ardzinba, underneath which there is an inscription "Vladislav Ardzinba". In the background, warriors of the Abkhazian Armed Forces are depicted raising the banner of Victory. The images are imposed on the traditional Abkhazian ornament. From left to right in a semicircle, there are seven stars from the state flag of the Republic of Abkhazia. In the lower left corner, there is the state emblem. In the left corner, the denomination of "500 apsars" is indicated in two vertical lines.
The main image of the reverse side of the banknote is a map of the Republic of Abkhazia and enclosed in a decorative rim, a silhouette of the architectural complex of the capital of Abkhazia, Sukhum, against the background of a symbolic fortress tower with the state emblem of the Republic of Abkhazia. Along the circumference of the rim, there is an inscription in the Abkhazian language "Нагӡара ақәзааит Аԥсынра" ("May Abkhazia reach completion"). Underneath the image, there is the number "500". A traditional ornament serves as the background of the composition. On the reverse side, the image of the seven stars is duplicated, and also the denomination in the right corner — 500 apsars.
The banknote has two serial numbers located on the reverse side of the banknote. They consist of a two-letter indication of the series and nine digits. The left number can be read on the long side of the banknote, the right one — on the short side.
In the lower right-hand side of the reverse side of the banknote, there is a QR code with a link to the Bank of Abkhazia website containing a description of the banknote's security features.
The security features of the banknote include a common watermark and two types of protective fibres, a colour-shifting security element "HMC" ("hidden multi-colour"), the Orlov effect in offset and metallographic printing, graphic guilloche elements and elements of copy protection.
The banknote is in brown and green colours, and it is made out of white cotton paper."
Abkhazia, officially the Republic of Abkhazia, is a de facto and partially recognized republic on the eastern coast of the Black Sea, in northwestern Georgia. The separatist Abkhazian polity, formally the Republic of Abkhazia, is recognised as a state by Russia, Venezuela, Nicaragua, Nauru and Syria. While Georgia lacks control over Abkhazia, the Georgian government and most United Nations member states legally consider Abkhazia part of Georgia, whose constitution designates the area as the Autonomous Republic of Abkhazia.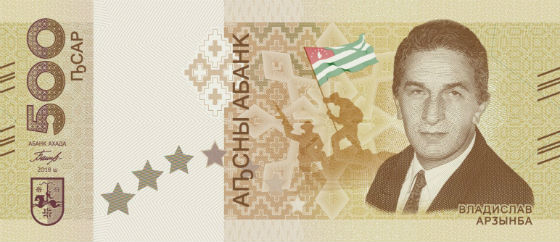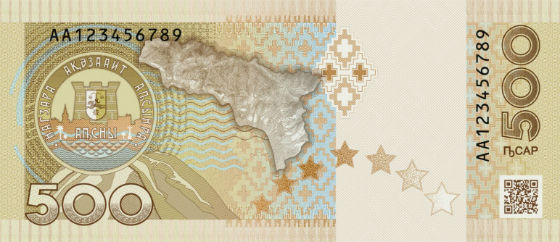 Courtesy of Triaff Nikitin.