The Central Bank of Namibia has issued a commemorative banknote on 21 March 2020. The commemorative occassion is Namibia's 30th independence anniversary.
The note has the uncommon denomination of 30 dollars. The theme of the new polymer note is "3 decades of independence, smooth transition of power between the 3 presidents, peace, stability and progress". On the front of the note are the faces of the 3 presidents:
The founding president H.E. Dr. Sam Nujoma
Former president H.E. Dr. Hifikepunye Pohamba
Current president H.E. Dr. Hage G. Geingob
The faces are printed with raised ink. Other features include:
Transparent dynamic-effect between the diamond-shaped window and the value of 30 with gold ink.
Six clusters of raised dots in the top right corner which helps visually impaired and partially sighted people to identify the value of the note, similar with current banknotes.
At the back of the note there is a see-through window dpicting the Black Namibian Rhino.
More info on the security features can be found in this PDF which also provided the images below: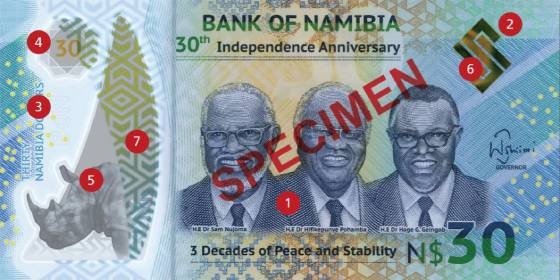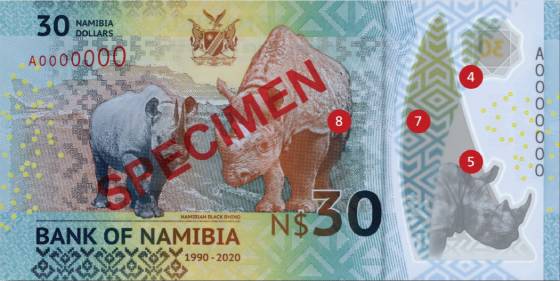 And a video presentation: