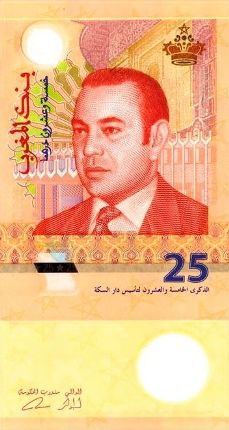 With the issuance of the new Moroccan 25 Dirhams scheduled for this month, Bank al Maghrib, Morocco's central bank, will become the first in the world to issue a banknote printed on Durasafe. This is a new paper-polymer-paper composite produced by Fortress Paper at the Landqart mill.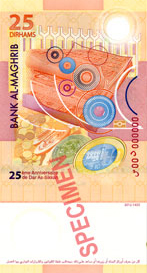 The front of the banknote features an Intaglio vignette and a watermark of King Mohammed VI, and a magenta/green colourshift security thread developed by the company's wholly owned subsidiary, Fortress Optical Features Ltd. The thread, like the watermark, is embedded inside the banknote yet visible behind a one-sided polymer window. It also has a fully transparent polymer window embossed with the King's royal crest. The back of the note carries a print vignette commemorating 25 years of banknote printing at the Moroccan State Printing Works, Dar As Sikkah.
The windows in Durasafe are formed by die cutting each side of the three layer composite substrate separately. One sided windows (Viewsafe) give a clear view inside the substrate where the FOF thread and the watermark of King Mohammed VI are protected, but fully visible behind the polymer core. The transparent window (Thrusafe) is created by die-cutting both the outer paperlayers to reveal only the transparent polymer core.