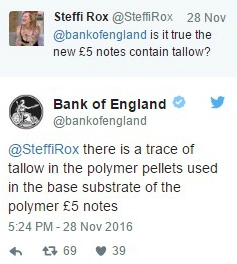 Well, there was a controversy I didn't expect! After a tweet was sent to the Bank of England asking if the new plastic pound notes contain tallow, the answer was a rather surprising 'yes'. Tallow is a rendered form of beef fat so of course vegans, vegetarians, hindus, sikhs and lots of other people were outraged that they were forced to use a product partly made from an animal. More than 118,000 people have already signed a petition at this moment, urging the Bank of England to remove tallow from the banknotes.
The Bank of England has responded to the controversy by promising to look into ways to make its banknotes more animal-friendly. At the time of signing the contract with polymer supplier Innovia the Bank of England wasn't aware that the product contained traces of animal fat.
Meanwhile, the Scottish banks have announced that their plastic notes also contain traces of animal fat. "The Clydesdale Bank, Bank of Scotland and Royal Bank of Scotland, had previously all said their notes were free of animal products. (...) However, De La Rue, which makes the notes, said more detailed analysis had revealed animal derivative equivalent to a maximum of 0.003% per banknote."
I'm sure other countries that use polymer notes are also taking a closer look at their banknotes right now.