The Royal Bank of Scotland has presented its new 20-pound note which will enter circulation in 2020. The new note will be the first 20-pound Scottish banknote to feature a woman other than the Queen on its front.
The new polymer note will feature an image of Kate Cranston, the turn of the century entrepreneur who commissioned Charles Rennie Mackintosh to design her famous Glasgow venue. The note was revealed at her legendary tearoom in Glasgow. The tearooms made a cultural impact during her life due to offering venues where women could enter unchaperoned. Following her death in 1934, her fortune was left to support the poor and the homeless in the city.
The 20-pound note is the third in a series of 'Fabric of Nature' themed notes made from De La Rue's Safeguard polymer material and will also contain a variety of new security features.
In keeping with the Fabric of Nature theme, the new 20-pound note features illustrations of red squirrels on its reverse and also features the blaeberry fruit. It also includes extracts from 16th century Scottish poet Mark Alexander Boyd's work, Cupid and Venus.
The new note will carry the same exclusive weave pattern developed by textile designers Alistair McDade and Elspeth Anderson for the polymer 5- and 10-pound notes.
The red squirrels on a tree illustration for the 20-pound follow mackerel in the sea on the 5-pound note and otters on the shore for the 10-pound note.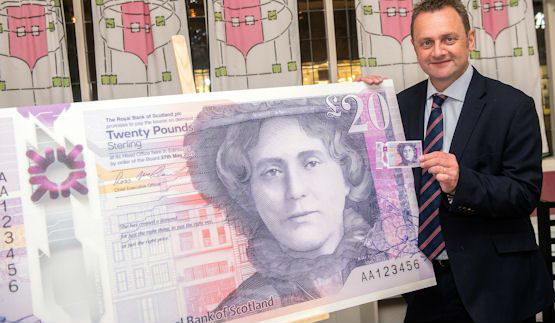 Details from the back: