And now for something really nice. The Maldives Monetary Authority has published the new designs of the new banknote series and boy are they nice! The six new notes which are made of polymer have beautiful colors, aquarell-style paintings on the front and nicely-shaped see-through windows. The issue-date for this new series is unknown at this moment but is likely delayed because of the recent political problems.
Update 26 January 2016: the new series has been issued today according to this press release.
The designs in more detail:
10 rufiyaa - 'Our culture'. Color: Golden yellow. Background Pattern of note: Pattern made using designs on the traditional drum (Boduberu). Front:Toddy tapper (Ruh' erun), group of men and women engaged in playing traditional music (Boduberu), a coconut bunch (Dhondhamburu ruku ihaleh). Back:The oldest drum displayed in the National museum (Boduberu)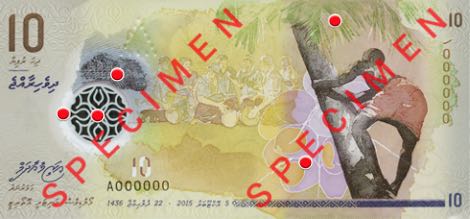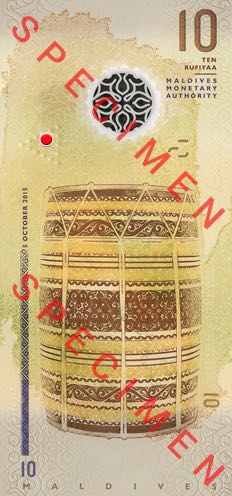 20 rufiyaa - 'Our industrial and economic progress'. Color: Purple. Background pattern of note: A line pattern representing the aerial view of islands and reefs in Maldives. Front: a fisherman carrying a skipjack tuna and a yellow fin tuna, the main airport in Maldives Ibrahim Nasir International Airport, an image of the Cyprea Moneta (Cowry shell). Back: a traditional sail boat (Dhoni).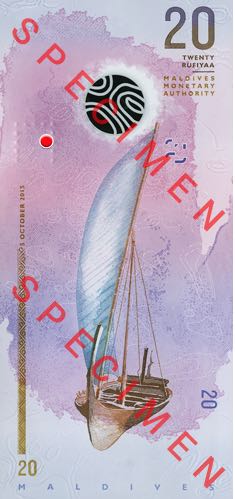 50 rufiyaa - 'Our unity, and Islamic values'. Color: Green. Background pattern of note: Pattern made from stone carvings in the Friday Mosque (Hukuru Miskiy). Front: a boy reciting the Holy Quran, activity of pulling boats from the beach onto the water (Dhoni beylun). Back: the minaret of the Friday Mosque (Hukuru Miskiy).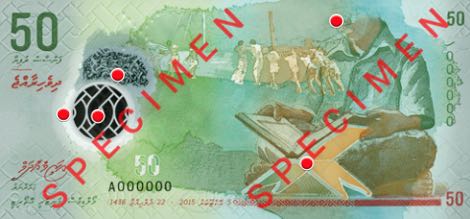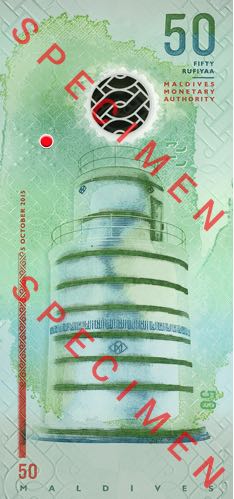 100 rufiyaa - 'Nationalism and our native language'. Color: Red. Background pattern of note: pattern made using old Dhivehi alphabet Dives akuru. Front: woman in one of the Maldivian traditional dresses (Libaas), working on the neckline threading (Hiru) of a similar dress, group of locals in traditional attire. Back: the early Dhivehi scripture Dambidu Lomafanu.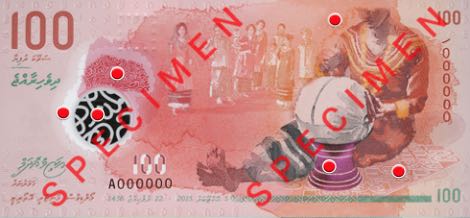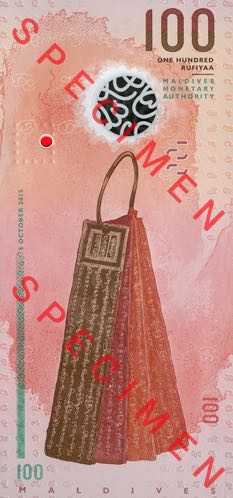 500 rufiyaa - 'Our ancestral craftsmanship'. Color: Orange. Background pattern of note: pattern called Kuribontaa found on traditional hand weaved mats made out of hay (Thun'du kunaa). Front: the act of wood carving, wood worker fashioning an intricate design using mallet and chisel, woman making ekels (Iloshi), traditionally used to make brooms (Iloshi fathii). Back: traditional hand carved vase with lacquer work detailing.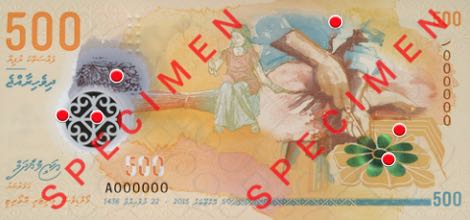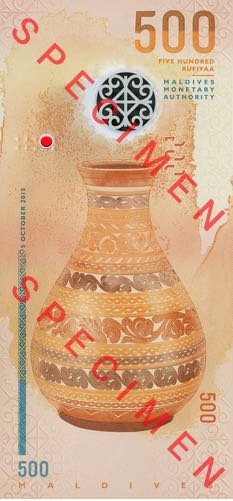 1,000 rufiyaa - 'The beauty in our surrounding'. Color: Blue. Background pattern of note: pale yellow spot and striped pattern on the skin of whale sharks. Front: green turtle (Chelonia mydas), a representation of a luxury resort, manta rays (Manta alfredi), Corals. Back: whale shark (Rhincodon typus).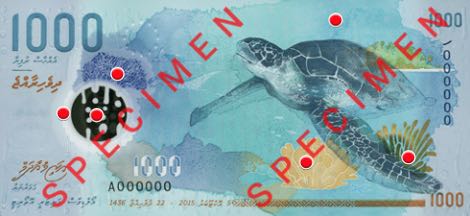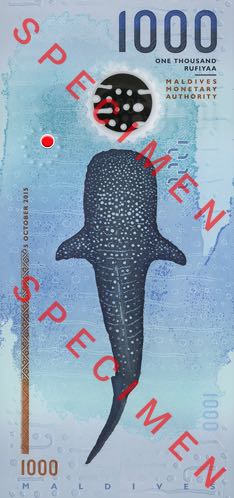 Size of the notes: 150 x 70 mm. Signature on the note: Governor Dr. Azeema Adam. Date on the note: 22 Zul'hijja 1436, 5 October 2015. Serial Number: prefix of vertical serial number is in Dhivehi and prefix of horizontal serial number is in English.