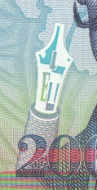 As some of you may recall I wrote a little post about another hobby of yours truly: fountain pens. I wrote that I couldn't find a banknote with a fountain pen on it and this eventually led to a great gift by Mujand with my very own fantasy banknote which you can see here.
The story doesn't end there however.
Yesterday I received a reply from Duncan Reid from De la Rue pointing out that a banknote with a fountain pen DOES exist. Behold, the 1999 note from Cape Verde of 2,000-escudos (P66) featuring the Cape Verdian poet Eugénio Tavares on the front and a part of the poem "Morna de Aguada" on the back designed by De la Rue. On the front and back we can see a fountain pen as a front-to-back see-through register, overprinted on a hologram and as part of the security thread.
Great find and thanks for the tip!