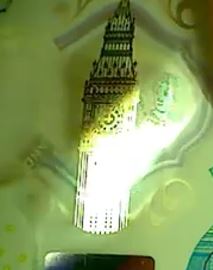 Lots of people in Britain are curently rubbing their new 5-pound banknotes. Are they looking for strips of bacon after the recent animal fat scandal? No, they're looking for a potential fortune.
Engraving artist Graham Short has engraved the image of writer Jane Austen in miniature on 4 new 5-pound notes and issued them quietly to the public. Based on previous work done by him, estimates of the worth of these little pieces of art are skyrocketing to 50,000 pound at the moment.
The engravings, which are next to Big Ben on the holographic foil, are invisible to the naked eye and can only be seen in certain lights. Short has worked for two weeks on the images. He also said he only works between midnight and 5 am to reduce the traffic noise from outside and he binds his right arm to a chair to stop unnecessary body movement.
As the newspaper The Independent points out: "... Mr Short's latest project could get him into trouble with the law as it is technically an offence to deface a banknote. Under the Currency & Banknotes Act 1928, it is illegal to print, write or impress words, letters or symbols onto notes issued by the Bank of England."
If he should be fined, I think he won't get into any financial trouble: "His previous work, a picture of the Queen's head on a speck of gold the size of the eye of a needle, recently sold for £100,000."
On this Facebook page you can find a video of the actual artwork and how it looks on the banknote (so you know what to look for).