It's only a few more days until the Norges Bank issues the new 100- and 200-kroner banknotes. These will be the first two notes of the highly anticipated new series.
To celebrate this event the Norges Bank has begun a campaign featuring the video below which is 'celebrating' the new 200-kroner note which has the image of a cod on the front.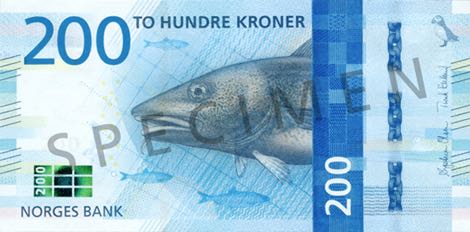 The video features the trio KLM along with a certain 'DJ Codfather' singing the song "Torsken kommer II – Torske kroner nå" which roughly translates into something like "the cod is coming". The rest of the text is more difficult to translate into English according to Bank President Øystein Olsen.
I wish more central banks made bizarre funny videos like this!